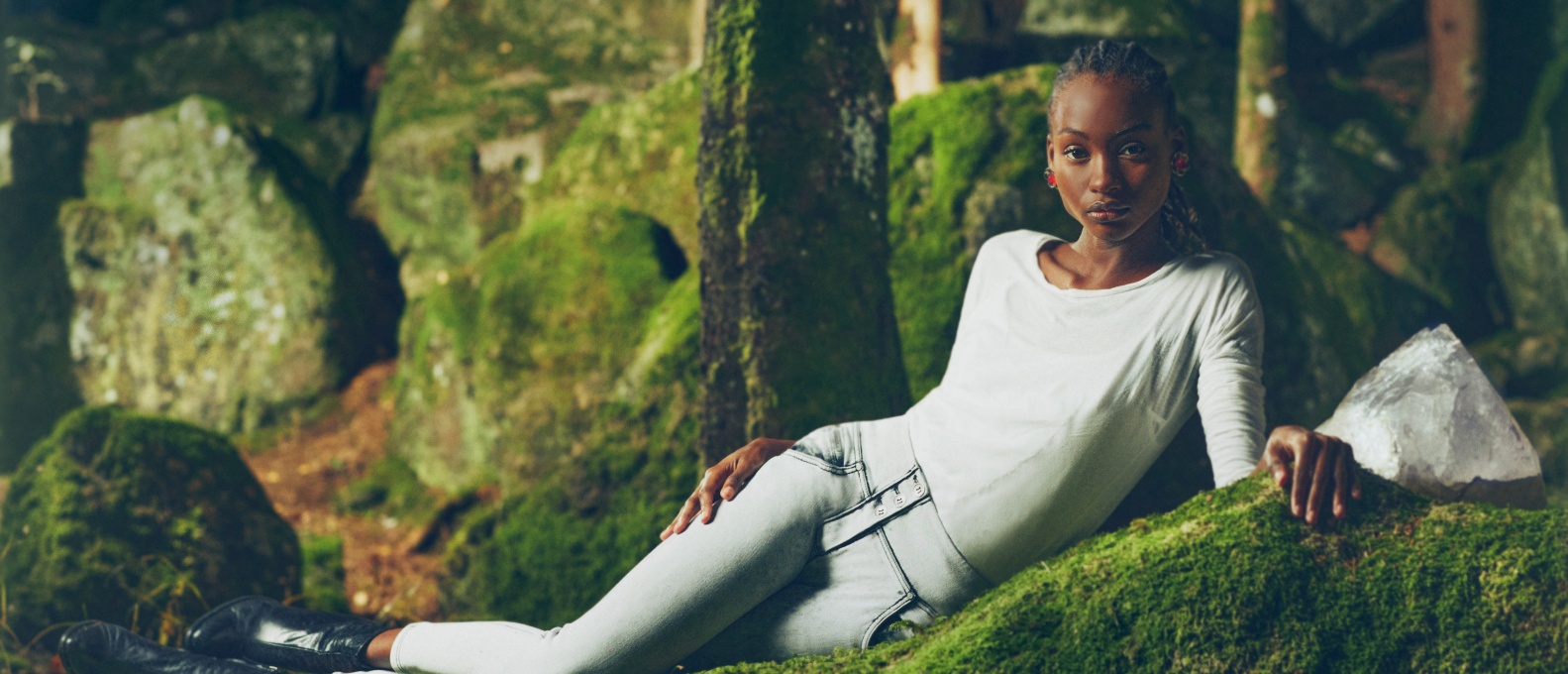 In a world that keeps changing and that requires the support of all of us, we have decided to launch a renovation plan with a view to safeguarding Nature. (RE)MOVE – Freddy's Sustainability Commitment – is a program aimed at making our manufacturing process increasingly sustainable. The WR.UP® is the first collection created in pursuit of this great ambition: Removing waste to realign ourselves with our natural side. This is the first collection entirely made of eco-friendly fabrics.

The cotton of our garments is 100% organic with recycled elastomer.

The polyester comes from plastic bottles that have been recycled and turned into new fiber.

We are working so that all our dyes can have low environmental impact and be free of harmful chemicals.

Our sites are ISO 14001 certified. Our polyester-based fabric providers are GRS certified and we have started the GOTS/OCS certification process for cotton fabrics.

Accessories like zippers, buttons, plates, and elastics are all made of partially recycled material.

All the bags of the collection will be made of biodegradable and compostable plastics and the garment tags are made of recycled paper.

From the SS/23 collection, the special shaping silicone inserts will be replaced with a material with water-based adhesives, without chemical solvents, eco-friendly, and more delicate on the skin.

In our offices we only use energy from 100% renewable sources, and we are starting projects to offset manufacturing-generated CO2 emissions.
DISCOVER THE COLLECTION
We Two, How Long
We Were Fool'd
The WR.UP® campaign is the work of the Scandebergs duo. Alberto Albanese and Stefano Colombini are Italian photographers and directors based in London. The duo exhibits their work in New York and in collective exhibitions all around Europe. They have become very successful at international level shooting for several celebrities and arousing the interest of the high-end fashion industry, as well as of the art and editorial world. The formula of their success is an authentic view of the world wherein authenticity is the ability to rebuild reality through a personal filter. Driven by a shared aesthetic sensitivity and complementary skills, they stand out for a style that mixes performance and photography, a descriptive strategy characterized by the wise use of light and a cinematographic approach able to create surreal atmospheres and to explore new narrative territories. We have decided to collaborate with the Scandebergs duo because of their intimist and peculiar perspective, especially when it comes to representing natural landscapes. In them, we have found the ideal interpreters of Nature able to narrate this second chapter of WR.UP®. The second campaign is a fashion film where the intention to reconcile with our natural side is even more explicit.
This time WR.UP® takes the floor launching a message of hope to the world and reminding us that we are all part of the same life. And it does it through the visual imagery built by the Scandebergs duo and described by the words of Walt Whitman, the greatest poet in American history. The poem "We Two, How Long We Were Fool'd" speaks a timeless language, which is still very topical. A narrating voice that goes straight to the heart of a crowd of young people who want to get closer to Nature while respecting all its element, be it rock, earth, animal, blade of grass, or watercourse. Or us, who are its children. Similarly, the images of the film convey a feeling of identity. Our models witness its wonders in a rocky landscape. Amazing flowers and multicolored mushrooms sprout up between the cracks. Minerals, gems, and bright crystals appear inside broken or shattered rocks. In this real yet dreamlike scenario, they move from rock to rock. They pose alone and in group, stopping to enjoy the scenography that Nature offers us. Immersed in a mountain landscape, there is the magic of life.
DISCOVER THE COLLECTION